THE BEST FOR YOUR BEST FRIEND
100% Canadian Vet-Quality Products
Your pet deserves the same quality of care that we give ourselves. PET-LUXE products are a selection of hand-picked veterinarian-quality health & wellness and pet grooming products offered at retail-friendly prices. All products are produced in Canada, with the exception of the vet wrap, and are packed and shipped directly from Toronto. Give your furry friend the best quality of life possible with PET-LUXE!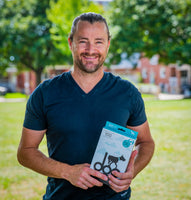 Try Our dooBags! No More Broken Bags or Messy Pick-Ups!
Stop fiddling with rolled-up doggy bags or licking your fingers to find the opening of the bag. Use our bio-degradable unscented dooBAGS instead!
dooBAGS are made from partially-recycled material and are completely bio-degradable.
We are thicker, longer, stronger, easier to use, black (to conceal what's inside), and can be used for multiple pick-ups on the same walk!
By using dooBAGS we're helping the environment one 'doo' at a time!
Buy Now
Natural Dog Treats & Supplements
Hi! We're Paul and Kirby
As a former carpenter, I love being outdoors and understand the importance of taking care of our environment. It's my mission to not only protect Mother Earth but to help provide the best quality of life for its inhabitants.
Before PET-LUXE, we were a spin-off from my newspaper business, branded as dooBAGS. We focused solely on manufacturing bio-degradable and black newspaper bags transformed into doggy bags. After selling out halfway through our first ever tradeshow at Woofstock 2009, we knew we were unto something!
Learn More About Us
Our Mission
Many pet owners are turning to all-natural and eco-friendly products that carry into medicinal aids, grooming products, nutritional supplements, and so much more. Pets are a big part of family life and ensuring that we're using the
safest products available, are our responsibility.
Throughout the years, we listened to my friends and family grumble about the ridiculous prices of pet supplements and grooming products sold at their veterinarian's and so a light bulb went off. Since then, PET-LUXE was born to accommodate a range of natural vet-quality products sold at retail-friendly prices.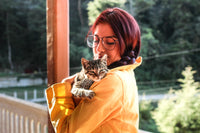 Let's Be Friends!
Don't forget to post your cute pet photos using our products on Instagram and to tag @petluxecom! We'd love to share in the fun!